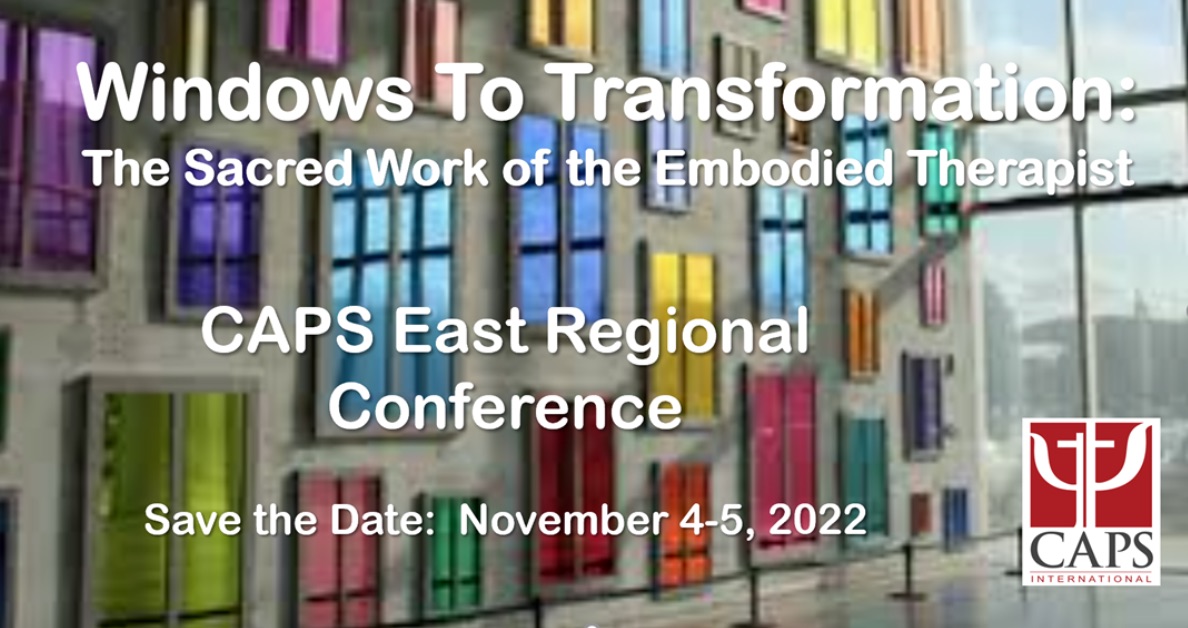 CALL FOR PRESENTATIONS
Submission Instructions:  Submission Deadline: Sept 25, 2022.  Submissions are accepted on-line only; submissions can be single or multi-authored papers, seminars, clinical presentations, or poster sessions; most will be one-hour sessions (a few 2-hour slots are available). Be prepared to upload an abstract, 3 learning objectives, sample handouts, and CV's of all presenters when you go to the submission website. Submissions do not have to deal directly with the conference theme. If selected for the conference, all presenters agree to register and pay for the conference and attend.
Student Poster Competition: Submission Deadline: September 25, 2022. Student Posters will be judged at the Conference with a top prize of $100 and a year's membership in CAPS International to the winner. Posters may be theoretical or empirical but must address some aspect of the relationships amongst behavioral sciences/practices and Christian faith. If selected all poster authors must register and pay for the conference and attend to discuss their work. The Winner will be announced during the Plenary Session on Saturday morning at the Conference.  Submissions should be entered as directed above for submissions at CAPS.net. Note on your Submission abstract:  STUDENT POSTER COMPETITION.
Questions may be directed to Dr. Gwen White at: gwhite@eastern.edu.
PROCEDURE FOR SUBMITTING A PROGRAM PROPOSAL
Consider the presentation you wish to propose using the Presentation Format options listed below.
Enlist colleagues to present with you if the format requires more than one presenter.
TO SUBMIT YOUR INFORMATION/PAPER return to this page once online acceptance has begun. Read and follow the online CE tutorial carefully.
At the end of the on-line submission document is a "Participation Agreement". Be sure the primary presenter reads and discusses the terms of the "Participation Agreement" with all co-presenters; the primary presenter must check a box indicating ALL co-presenters agree to these terms.
Make a copy of the proposal for your own records.
**Incomplete proposals will not be considered for the program until ALL requested information is submitted. Your proposal will be acknowledged within one week after receipt.
PRESENTATION FORMATS
Seminar: Thorough discussion of a topic by an individual or group of up to four persons having essentially the same perspective. Proposals must clearly define the subject to be discussed. Length of time is one or two hours. NOTE: There are very few 2-hour slots on the program.
Clinical Demonstration: Demonstration of a particular therapeutic style or technique providing an opportunity to observe its application through direct observation. Length of time is one to two hours. NOTE: There are very few 2-hour slots on the program.
Paper: Papers may be 30 minutes or 1-hour in length.  If you prefer a 30 minute slot, you will share the hour with another presenter whose paper topic is similar to your own. Student papers will be considered; they must present with their mentoring professors.
Poster Session: Walk-by display of a paper or research, showcased in a way that encourages interchange between authors and attendees. Summary copies or entire work should be available for distribution. Students may submit presentations in this format with or without faculty co-authors.